Tutorials
Setting up your email with Windows Live
Windows Live is free and you will be able to create up to 500 email addresses (for example, info@yourdomain.com, contact@yourdomain.com, orders@yourdomain.com, john@yourdomain.com and so on).
If you prefer to use Yola's email service, Yola Mail, please click on this link for more information: Setting up your email with Yola Mail. Please note: Yola Mail is not available to partner programs.
This link has a quick overview on how Windows Live works: Windows Live.
1. Under the heading "Custom Domains" click on "Get Started".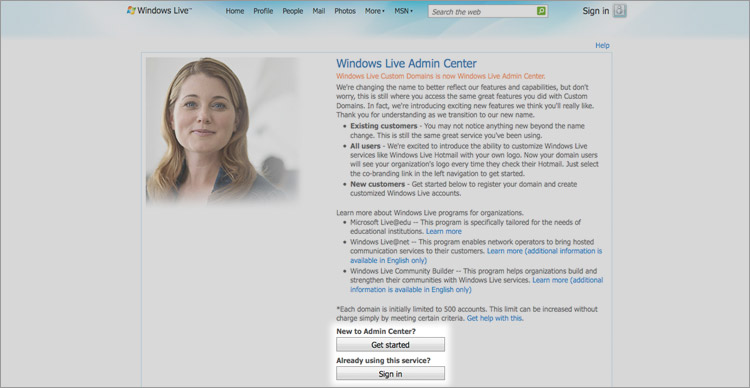 2. Enter your domain and select "Set up Windows Live Hotmail for my domain". Click "Continue".
3. The next page will ask you whether you would like to sign in using (a) an Existing Windows Live ID or (b) create a new Windows Live ID eg. you@yourdomain.com.

(If you select "Create a new Windows Live ID in your domain, ex you@yourdomain.com", you will be directed to a page where you create your Windows Live ID. Once complete, you will receive an email to verify your account before proceeding to the next steps).
4. Once signed in, you'll be directed to a page called "Review settings and accept agreement". Click "I Accept" to accept the terms.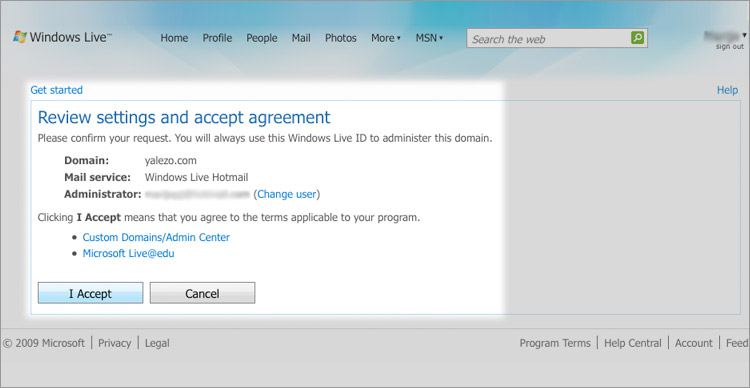 5. You will then be directed to page with information on your settings.  Copy the MX server code (it will look something like this: 294477533.pamx1.hotmail.com).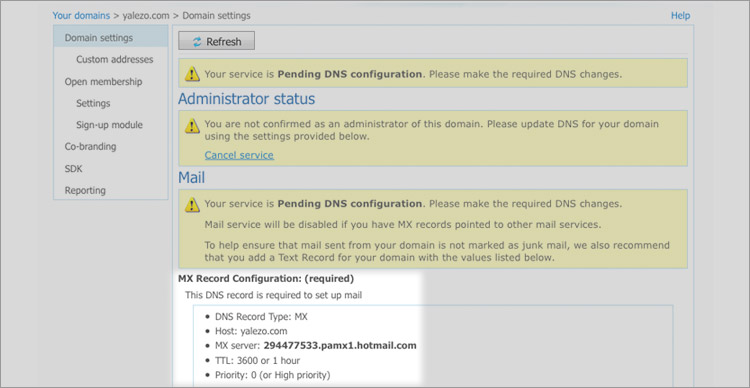 6.  Back on your Yola account, make sure you're logged in. Click on "Domains".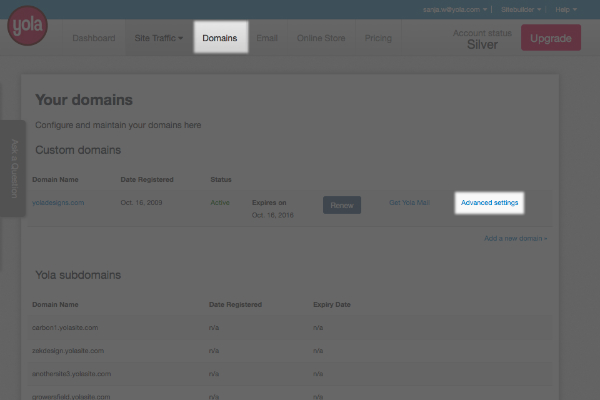 7. Under "Advanced domain settings" click on "Set up email for your domain". Make sure that you have selected the correct domain (if you have more than one ) on the drop-down list.

8. Select "set up email on a different provider".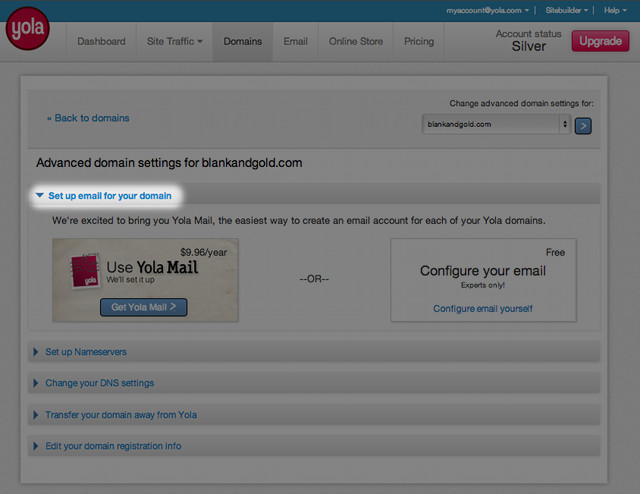 8. Click on "Windows Live (Hotmail) and paste the MX Record that you copied in point 5 into the area and then click on "Submit".
9. Back on your Windows Live account, click on "Refresh" at the top of the page. Don't be alarmed if it doesn't change immediately, it may take a few minutes for your domain to be verified with the MX Record.
10. Once done, click on "Add" to add accounts and follow the steps to setup your email accounts.
FAQs
Where do I check my mail?
Sign in at http://mail.live.com with your new e-mail address, e.g. info@yalezo.com.
I don't want to use Windows Live, can I use another email service?
Definitely! The MX records added in the DNS console can be deleted and you can add your own. Alternatively, try Yola Mail: Setting up your email with Yola Mail.