Tutorials
How to unpublish your site
If you decide that you no longer want your site to be live on the internet, you can easily unpublish it. Your site will then no longer be accessible to the public.

To unpublish your site:

1. Go to Settings > Publishing.

2. Click Unpublish Site.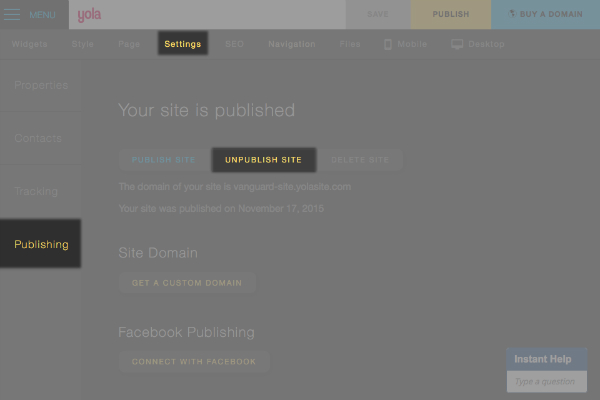 3. A confirmation dialog box will open.

4. Type "Unpublish" into the text box provided and click Unpublish site.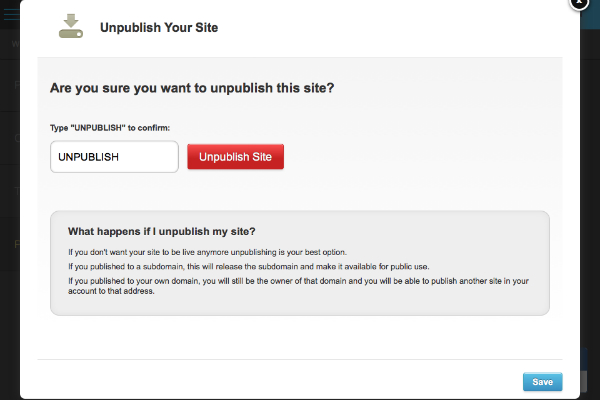 5. Your site is now unpublished.


Please note: If you had your site published to a subdomain and you unpublish it, your subdomain becomes available to be used by other people. If you published your site to a domain purchased through Yola, or a domain you purchased elsewhere, you will keep your domain.

You can republish your site at any time, by clicking Publish. You can choose to purchase, and publish your site to, a custom domain, a Yola subdomain or to your Yola-purchased domain by selecting the third option in the publishing dialog box: "Use a domain you previously purchased".

If you have a Yola hosting subscription or have signed up via a partner program, you can also publish your site to an external domain, by selecting Other... from the drop-down menu and following the steps provided.