Tutorials
Adding a Flash banner to your site
IMPORTANT NOTICE
Flash will no longer be supported as of December 31st, 2020. This affects all websites built with this technology.
On December 31st, 2020, Adobe will stop supporting the Flash Player. All major web browsers will remove support for Flash content within the same timeframe.
The Yola Flash widget can no longer be added to Yola websites. 
Existing Yola websites will have until December 31st, 2020, to replace or remove Flash content. Please note that you will need to republish your site once you have made these changes.


You can add a flash banner to your site, but not in the banner position of a template that has a changeable banner. This is because the banner area does not support .swf files.

You can, however, choose a template that does not have a banner image area and place a Flash widget at the top of the page and into that your flash file.  You can use any of the Responsive templates which include the option to remove your banner area. Here are the steps for this:  

1. In your Sitebuilder, go to Style > Change Template.


2. Click Responsive and select one of the available templates.
 


3. Then, go to Style > Designer.
 


4. Scroll down to the bottom and uncheck "Display Banner".  
 

Once you've selected your template, here's how to add a flash file to your page:  

1. Go to Widgets.

2. On the drop-down menu, click Media.  

3. Drag and drop a Flash widget onto your page.
 

 

 
4. You can either upload a new flash file, or browse for existing files.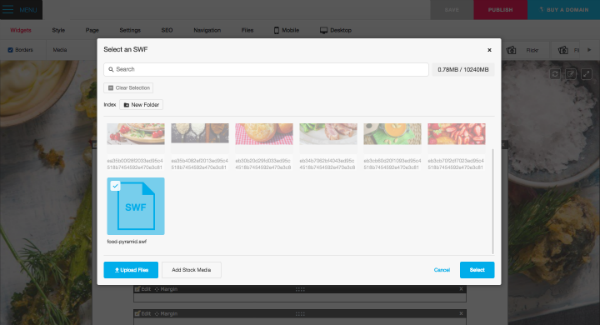 5. Once you have selected your file, it will display in the editing dialog box.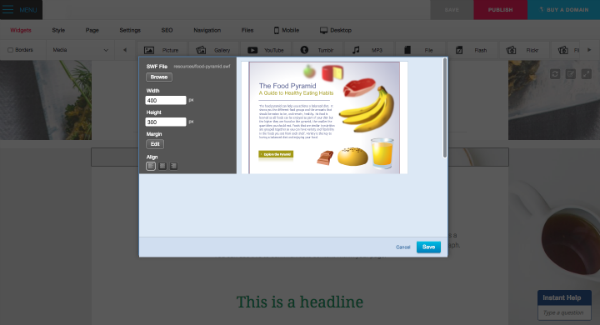 6. If necessary, edit the width, height, alignment and margin of the file.  

7. Click Save.

If you upgrade to Yola Silver or Yola Gold, you will have access to the Site CSS feature and can use CSS coding to remove the banner area!