Tutorials
Creating a banner image
Yola offers a selection of styles that allow you to change the banner image. If the style you select supports a custom banner image, a blue box with the title "Edit Banner Image" will display on the title bar when you mouseover the banner image.

To change the banner image, click on the banner area. A dialog box will open up and you can select "Change Image". You will then be able to select from "Upload New Banner", "Browse Uploaded Banners" or "Find Stock Banners".
Each banner has recommended dimensions which can be used to achieve the best result. Although you can edit the banner image once it has been uploaded, it's best to upload an image that matches the recommended banner dimensions.
To find the banner dimensions, click on the banner area. You will see the banner size dimensions on the bottom of the dialog box that opens up. On the screenshot below, you can see that the recommended banner size is 482px by 250px.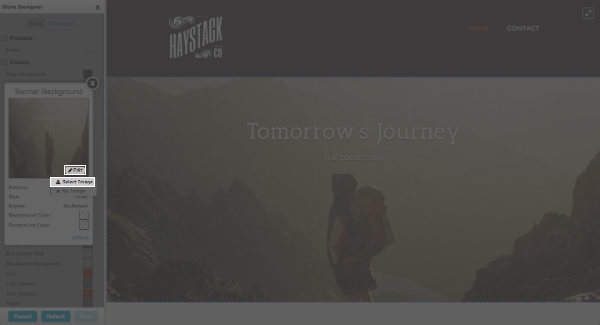 Banner images can be created on your computer using a simple image editor or you can use more advanced graphic software such as Photoshop or Gimp.

There are quite a few banner making programs on the internet if you would like to create your own. Two popular options are Banner Fans and Banner Maker Pro.