Tutorials
The new-look Sitebuilder
We've made some changes to how the Sitebuilder looks and added some great new features, such as full-screen editing. We've also moved the toolbar to the top of the screen so that it's more easily accessible. 

The new tabbed toolbar is divided into: Site, Page, Widgets, Style, SEO and Online Store. All the functionality you're used to is still available - but some features have been moved around. Here's a breakdown of some of the changes: 


Where's the File Manager gone?
The File Manager is now located in Site > Content. 





Where is Page Properties? 
You can now add and edit your page heading, edit your metadata and manage your site navigation in the Page > Page Properties tab. 





Where do I go to change the page layout?
The layout options are now located in Page > Layout.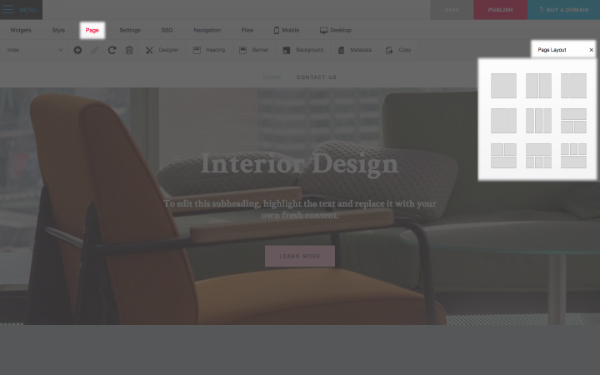 Help! My Sitebuilder is taking up my whole screen!
You can now edit your site in fullscreen mode, and you can easily switch back and forth between fullscreen and non-fullscreen mode. This is a great way to maximize your workspace. To toggle between modes, click on the button as illustrated below. 




How do I add a new site or rename my site?
To add a new site, click on the Site tab. To the right of your site's name is a pencil and a "+" sign. Click on the pencil to rename your site or the "+" sign to add a new site. 

If you have multiple sites, you can switch between them by clicking on the down-arrow next to your site's name and selecting a different site. 




Where is "Save Page As"?
Click on the page tab, and then click the down-arrow next to your page name. The "Save Page As" option is located at the top of the page list.