Tutorials
Adding SSL certificates to your site
Having SSL (Secure Socket Layer) is an important feature to have on your website as it encrypts all data transferred online. This means your visitor's data (such as addresses, payment information, etc..) is protected against monitoring and tampering. Having SSL increases your customer's trust and gives them a peace of mind as they are browsing through your site. In addition, secure sites reap an additional boost in search engine rankings!
How to add:
1. In the Sitebuilder, go to Settings > Publishing.
2. Under "Enable SSL", slide the toggle button to the right.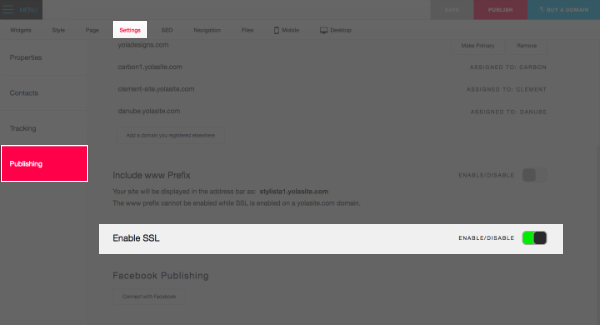 3. Republish your site and you should see the https:// in front of your domain URL.

 
How do I know if the SSL feature is working?
When you visit your published site, you should see a green padlock in the address bar.



What kind of domains can SSL be used with?
The SSL feature is only available on domains managed by Yola such as the Yola subdomains or custom domains purchased through Yola.
 
I have a pointed domain, how can I use the SSL feature?
If you wish to have the SSL feature with your pointed domain, you will need to contact your own domain registrar to see if they provide an SSL feature for you.
 
How much does the SSL feature cost?
It's free for all Yola users!