Tutorials
Publishing website to your pointed domain at Yola
You have configured your domain to point to Yola, but when you try to access it, all you get is an "Oops, this site is not published" message. Don't be alarmed. What this means is that your site hasn't been published to your pointed domain yet.
 
To publish your unpublished site to your pointed domain:

1. Click Publish.

2. In the "Already own a domain?" section, click Point your domain now.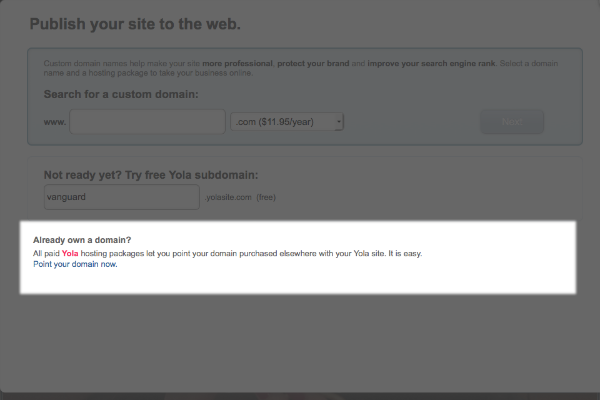 3. Enter your domain name.
If the domain is correctly set up, it will say "Congratulations. Your domain is pointed!".
If your domain is not correctly configured, it will say "Sorry. This domain is not pointed correctly". You will need to go back to your domain registrar and double-check your settings. 
4. Click Next to publish your site to your domain. 
 
 

 

If your site is already published to a Yola subdomain:

1. Go to your My Yola page.

2. Click Domains in the top toolbar. 
 


3. Under the section "Add a domain you already own", click Want to keep your domain registered with another registrar?

4. Type your domain name into the required field, and select the site you'd like to use it with.

5. Click Add.

6. Follow steps provided.
 

7. If your domain now redirects to your subdomain, you can change it by following the steps on this link: My domain is redirecting to my Yolasite subdomain.

Please note: You will need to be a Yola Bronze, Yola Silver or Yola Gold subscriber, or be part of certain partner programs, in order to publish your pointed domain to your site. Upgrading allows you to publish to an unlimited number of pointed domains, as well as giving you access to features such as editable site CSS and access to all the Premium Styles.

To upgrade your subscription, log in to your Yola account and click on the Upgrade button in the top-right corner and follow the steps to purchase an upgrade.

If you are still having problems getting your site up and running, submit a request to support.